In the midst of the sparkling blue waters of the Bay of Naples lies a small island called Procida. The island has been shaped by various influences over the centuries, including Byzantine, Saracen, and Norman rule. This island, with its colorful houses and breathtaking views, has a history as vibrant as its surroundings that dates back to ancient times, when it was inhabited by Greeks, Romans, and other civilizations.
Procida has seen its fair share of conquerors and rulers over the centuries. The Greeks and Romans, the Byzantines and Saracens, and the Normans and Bourbons all left their mark on the island. But it was during the Bourbon period in the 18th century that Procida became infamous as a place of exile for political prisoners. Among them were poets, philosophers, and other prominent figures who found themselves banished to this tiny island.
Later, during World War II, the Fascist government used the island as a prison camp for Allied soldiers. Thousands of soldiers were held captive on the island, and many of them died due to poor conditions and mistreatment. The prisoners were eventually liberated by Allied forces in September 1943.
Despite its tumultuous past, Procida has emerged as a beacon of peace and beauty. Visitors from all over the world come to bask in the island's vibrant colors and soak up the warm Mediterranean sun. From its ancient ruins to its delicious seafood, Procida is a treasure trove of history and culture, waiting to be discovered.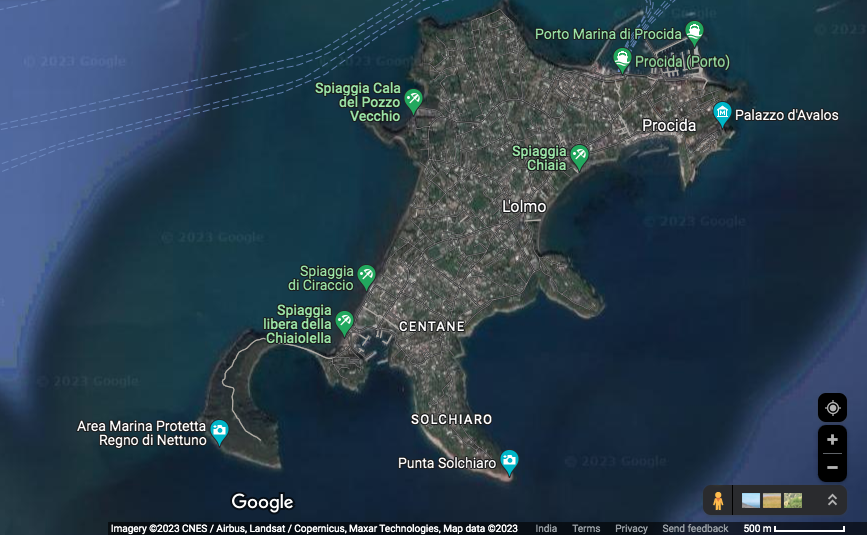 Getting To Procida From Naples
The closest airport to Procida is Naples International Airport. From there, you can take a taxi to the port of Naples and catch a ferry or hydrofoil to Procida. There are three harbours that provide access to Procida. The first two, Calata di Massa and Molo Beverello, are located in Naples and are in close proximity to each other. To reach Procida, you can take a ferry from the Calata di Massa harbor, while hydrofoils depart from the Molo Beverello harbor.
The ferry takes around 1 hour, while the hydrofoil takes around 40 minutes. Check Schedule & Ferry Tickets Here.
Things to Do or Places to Visit in Procida
Visitors to Procida cannot miss the opportunity to explore the breathtaking fortified center of Terra Murata, a stunning attraction built atop the island's highest point.
You can also visit some of the hidden coves and beaches or go snorkeling or swimming in the crystal-clear waters. See Details about Procida Beaches below.
Visit the Marina Corricella, a picturesque fishing village with colourful houses and a lively atmosphere.
Visit the Santa Maria delle Grazie church, a beautiful Baroque church with stunning frescoes and artwork.
Visit the Abbey of San Michele Arcangelo, a historic monastery with stunning views of the island and the sea.
Sunset Points – Procida offers several stunning sunset viewpoints, including the Terra Murata fortress and the Marina di Corricella. Don't miss the chance to capture the island's colorful sky as the sun dips below the horizon.
Procida Beaches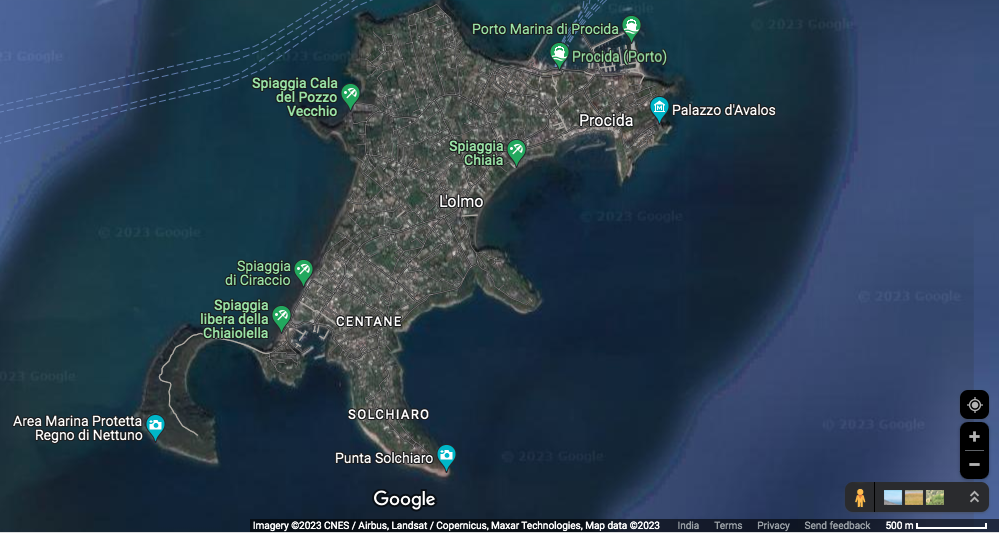 Procida is a paradise for beach lovers, with a variety of hidden coves and secluded beaches to discover. Here are a few of the best:
Discover Procida Visually in the Following Walking Tour Video by Prowalk Tours
The Walking Tour with Timestamps includes the following

01:16 – Walk begins at the Marina Grande

06:53 – Walk up Via Vittorio Emaneuele

09:18 – Walk down Via Principe Umberto towards the Piazza Dei Martiri

14:05 – Piazza Dei Martiri

24:43 – Steps down to Corricella

40:56 – Steps up, Leaving Corricella

44:21 – Road up to Terra Murata

48:08 – Iconic Scenic Viewpoint looking towards Corricella

55:36 – Scenic Viewpoint looking towards Naples

57:50 – Abbazia San Michele Arcangelo Entrance (closed)

1:02:58 – Leaving Terra Murata

1:07:40 – Walking scenic side streets down to the beach

1:14:03 – Beach (Spiaggia Lingua)

1:16:05 – Walking out on Break Water by the Marina di Procida

1:20:40 – Marina di Procida 1:29:11 – Ferry Port

1:32:47 – Walking out on the Break Water

Prowalk Tours
Terra Murata
Terra Murata is a captivating historical district that sits atop the highest point of the picturesque island of Procida. The fortified village dates back to the 15th century, serving as a defensive fortress against pirate invasions and other hostilities. Nowadays, it remains a top attraction for visitors, providing a unique window into the island's intriguing past and diverse culture.
The Fortified centre of Terra Murata or the Fortress, dominates the island's skyline. Constructed by the Aragonese during the 15th century, the fortress was subsequently enlarged and strengthened by the Bourbons in the 18th century. Visitors have the opportunity to explore the fortress's numerous chambers, such as a chapel, a prison, and a lookout tower that offers breathtaking vistas of the island and the sea beyond.
The fortress features a labyrinth of narrow streets and alleys, stunning panoramic views of the island and surrounding sea, and several landmarks, including the 14th-century Monastery of Santa Margherita and the 16th-century Church of San Michele. There are also several charming streets and alleys to explore, lined with colorful houses and traditional shops selling local products.
Palazzo D'Avalos
Palazzo D'Avalos is a magnificent 16th-century edifice situated in the heart of Procida's historic center. This graceful palace used to serve as the home of the D'Avalos family, a noble lineage hailing from the Spanish Viceroyalty of Naples. Currently, the palace functions as a museum that displays the island's splendid culture and history. The palace's design embodies a fusion of various styles, such as Renaissance, Baroque, and Neapolitan. Its grand facade is festooned with elaborate carvings, intricate stucco work, and an alluring balcony. Upon entering the palace, visitors can traverse the various rooms filled with spectacular artwork, ancient furniture, and other valuable artifacts that provide a glimpse into the island's past.
One of the most notable highlights of Palazzo D'Avalos is its impressive staircase that leads to the second floor. The staircase is crafted with Carrara marble and decorated with an intricate balustrade featuring mythological creatures such as cherubs and dragons.The palace's museum boasts a treasure trove of information about the island's history and culture, including exhibits on the island's fishing traditions, ceramics industry, and its role during World War II. The museum also showcases the work of local artists and artisans, such as handmade lace and embroidery. Click here for Details on Guided Tour.
Sunset Points
Procida offers various stunning sunset points, including the panoramic view from Terra Murata, the peaceful Chiaiolella harbor, and the colorful Marina Corricella. Visitors can also enjoy the breathtaking sunset from the beach of Pozzo Vecchio or take a boat tour to admire the sunset from the sea.
Food and Drink
Procida is known for its delicious seafood dishes, such as spaghetti alle vongole (spaghetti with clams) and frittura di paranza (mixed fried fish). You can also try some of the island's famous limoncello, a lemon-flavored liqueur made with locally grown lemons. Below are some of the Dishes worth gorging into when you visit Procida
Linguine con Alici: This is a classic dish made with fresh linguine pasta and anchovies, garlic, and chili pepper.
Spaghetti alle Vongole – spaghetti with clams
Gnocchi alla Procida: These are soft, fluffy potato dumplings served with a tomato sauce, basil, and grated cheese.
Zuppa di Pesce: This is a hearty fish soup made with a variety of fresh fish and shellfish, tomatoes, garlic, and onions.
Frittura di Paranza: This is a dish of mixed fried fish, usually consisting of small fish such as anchovies, sardines, and squid.
Ravioli Capresi: a type of ravioli stuffed with cheese, eggs, and herbs and served with tomato sauce.
Alici Marinate: marinated anchovies served with a mixture of oil, lemon, and parsley.
Insalata di Polpo: This is a salad made with octopus, potatoes, celery, and olives, dressed with olive oil and lemon juice.
Lemon granita: This is a refreshing dessert made with fresh lemons, sugar, and water. It is perfect for hot summer days.
Procida lemon liqueur: This is a sweet and tangy liqueur made from locally grown lemons. It is often served as a digestif after meals.
Getting Around
Procida is a small island, and most places can be reached on foot. However, if you want to explore further afield, you can rent a scooter or bicycle. There are also local buses that run around the island. Procida is a beautiful and peaceful island, perfect for a relaxing getaway. With stunning beaches, delicious food, and friendly locals, it's a place you'll never forget.
You may also like