Nestled in the sparkling blue waters of the Ionian Sea, Corfu, Greece, is a gem that captivates all who set foot on its shores. Known for its rich history, stunning natural beauty, and vibrant culture, Corfu offers a unique blend of tradition and modernity. Explore the following Islands to embark on a journey through this enchanting island, where ancient ruins, pristine beaches, and warm hospitality await.
8 Ultimate Islands to Explore in Corfu
1. Paxos: Paxos is a small paradise located just south of Corfu. Known for its stunning natural beauty, the island boasts emerald waters, charming pebble beaches, and picturesque olive groves. The three main villages—Gaios, Loggos, and Lakka—each offer their own unique charm. Gaios, the capital, features a bustling waterfront, narrow streets, and elegant Venetian architecture. Loggos exudes a tranquil ambiance with colorful houses lining the harbor, while Lakka offers a serene bay surrounded by lush greenery. Boat trips to the breathtaking sea caves and the nearby island of Antipaxos are a must.
2. Antipaxos: Antipaxos is a tiny gem with some of the clearest waters in the Ionian Sea. Its main beach, Vrika, boasts white sandy shores and turquoise waters reminiscent of the Caribbean. Nearby, Voutoumi Beach enchants visitors with its stunning cliffs and inviting coves. Antipaxos is a popular spot for snorkeling and swimming, and its rustic charm offers a peaceful retreat from the busier tourist destinations.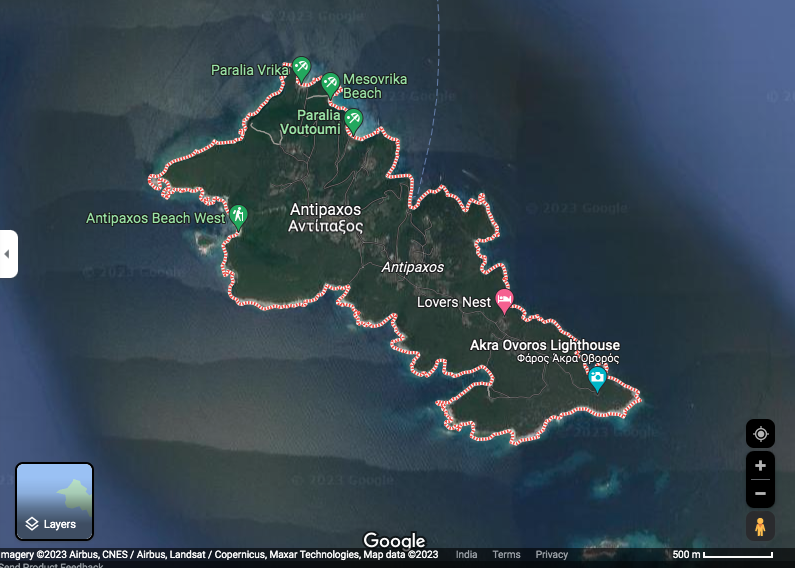 Othoni, Ereikoussa, and Mathraki (OEM): Collectively known as OEM, these islands offer a diverse experience. Othoni boasts a variety of beaches, including Platia Ammos, where sand dunes meet the sea. Ereikoussa is known for its sandy beaches and lush landscapes. Mathraki offers a more serene and secluded atmosphere, perfect for relaxation.
3. Erikoussa: The northernmost inhabited Ionian island, Erikoussa, is a serene escape with a laid-back atmosphere. It's known for its stunning sandy beaches, especially Porto beach, where you can soak in the sun and swim in crystal-clear waters. The island's lighthouse offers panoramic views of the surrounding sea, making it a great spot for photography and relaxation.
4. Mathraki: Mathraki is a remote and tranquil island, perfect for those seeking a quiet getaway. Its unspoiled beaches, such as Portello and Arvanitiko, offer a peaceful retreat surrounded by lush landscapes. You can explore the island on foot, following hiking trails that lead you through olive groves and charming villages.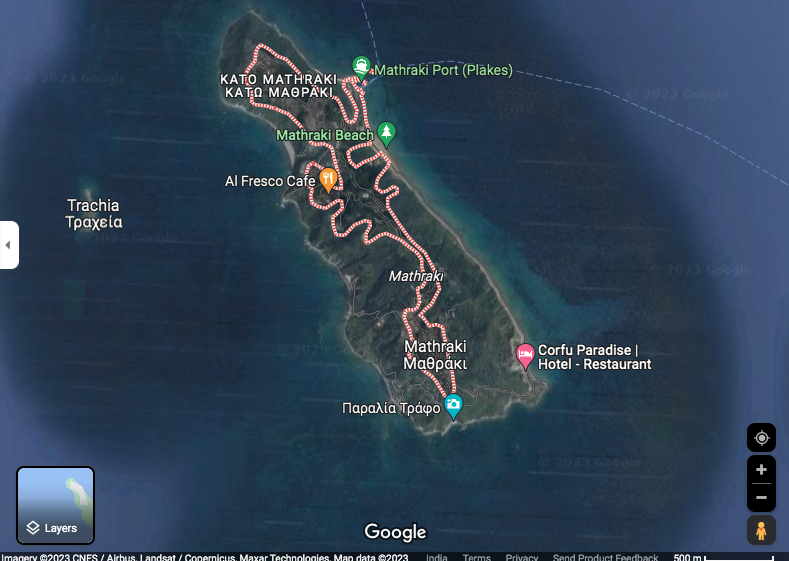 5. Othonoi: The largest of the Diapontia Islands, Othonoi, boasts a rugged coastline and secluded coves. The highlight is the stunning Aspros Gyalos beach, known for its white pebbles and turquoise waters. The island exudes a sense of isolation and authenticity, making it a great destination for nature lovers and those seeking a genuine Greek experience.
6. Diaplo Island: Diaplo Island is a tiny islet near Erikoussa, accessible by boat. It offers pristine waters for swimming and snorkeling, and its isolation adds to its allure. The shallow waters and colorful marine life make it a fantastic spot for underwater exploration.
7. Vido Island: Located near Corfu Town, Vido Island is a serene retreat with a small chapel and lush landscapes. The island holds historical significance as a World War I prisoner-of-war camp. Today, it's a peaceful destination for a day trip, offering a chance to connect with nature and reflect on history.
8. Pontikonisi (Mouse Island): Pontikonisi is an iconic islet with a tiny Byzantine chapel. The lush greenery that covers the islet contrasts beautifully with the surrounding blue waters. The islet's unique shape and serene ambiance make it a popular subject for photographs.
These enchanting islands near Corfu offer a tapestry of experiences, from pristine beaches and stunning views to tranquil retreats and authentic Greek culture. Each destination has its own allure, adding depth and richness to your exploration of the Ionian Sea.
So Just to Summarize
The Complete Route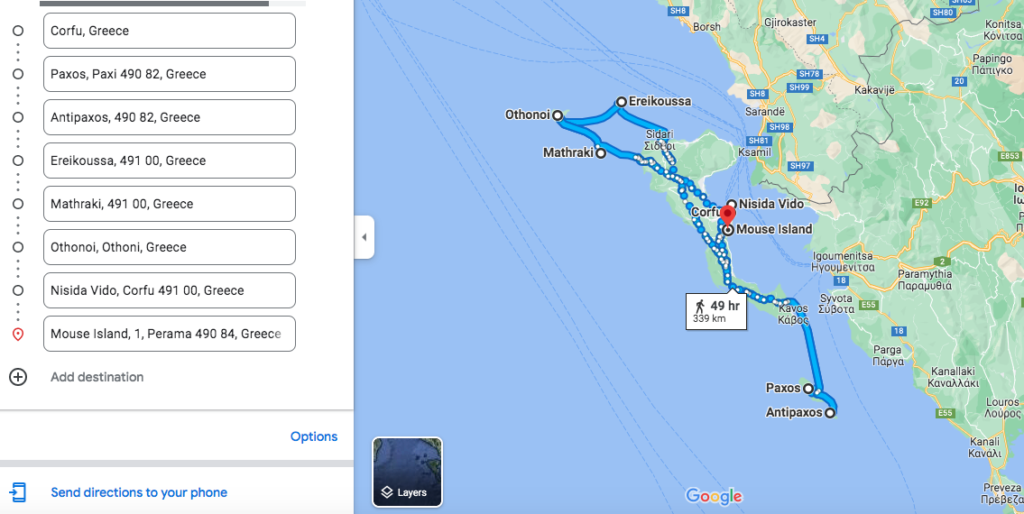 Paxos: A Tranquil Paradise
Getting There: Reach Paxos by ferry or boat from Corfu. The ferry ride takes around one hour.
Highlights: Discover the charming villages of Gaios, Loggos, and Lakka. Relax on picturesque beaches like Vrika and Voutoumi on Antipaxos. Explore sea caves by boat.
Activities: Stroll along cobblestone streets, sample local cuisine at waterfront tavernas, and enjoy water sports and boat tours.
Culture: Visit the Paxos Music Festival for a taste of local arts and traditions.
Antipaxos: Pristine Beach Bliss
Access: Accessible by boat from Paxos or Corfu. Boats run regularly in the summer.
Attractions: Experience the Caribbean-like beauty of Vrika and Voutoumi beaches, known for their turquoise waters and white sands.
Activities: Swim, snorkel, or simply bask in the sun. Savor fresh seafood at beachside tavernas.
Erikoussa: A Northern Gem
Arrival: Take a ferry from Corfu or charter a boat for a scenic ride to Erikoussa.
Exploration: Enjoy the tranquility of the island's sandy beaches, especially Porto Beach. Visit the Erikoussa Lighthouse for panoramic views.
Authenticity: Interact with friendly locals and experience a peaceful escape from tourist crowds.
Mathraki: Serene Seclusion
Getting There: Catch a ferry from Corfu or opt for boat tours from nearby islands.
Appeal: Experience the unspoiled beauty of Mathraki's beaches, like Portello and Arvanitiko.
Leisure: Relax on pristine shores, take leisurely walks, and relish the quiet ambiance.
Diaplo Island: A Hidden Gem
Access: Reach Diaplo Island by boat from Erikoussa. Boat tours also cover this scenic islet.
Charm: Explore untouched natural beauty, swim in clear waters, and bask in the tranquility.
Vido Island: A Peaceful Escape
Access: Take a short boat ride from Corfu Town.
Attractions: Explore lush landscapes, visit the World War I monument, and discover the small chapel.
Serene Atmosphere: Enjoy a serene retreat away from the bustling city.
Pontikonisi (Mouse Island): Iconic Beauty
Accessibility: Reach Mouse Island by boat from Kanoni.
Fascination: Admire the iconic Mouse Island and its charming Byzantine chapel.
Views: Capture postcard-perfect views and relish the serene ambiance.
Practical Tips:
Research ferry schedules and book in advance, especially during peak tourist seasons.
Pack essentials such as sunscreen, hats, swimwear, and comfortable shoes.
Respect local customs and environmental regulations to preserve the islands' natural beauty.
Engage with locals, embrace new experiences, and immerse yourself in each island's unique charm.
Learn More