All About Best Routes in Istrian Peninsula
The Best Routes in Istrian Peninsula offer diverse landscapes, including rugged cliffs, idyllic beaches, and fertile vineyards. Istrian Peninsula is a triangular-shaped region in Croatia, jutting into the Adriatic Sea. It is known for its stunning coastline, picturesque hilltop towns, and rich cultural heritage. Istria is a melting pot of influences, with a history shaped by Roman, Venetian, and Austro-Hungarian civilizations.
Its charming towns, such as Pula, Rovinj, and Poreč, boast well-preserved Roman ruins, narrow cobblestone streets, and vibrant harbors. Istria is also renowned for its gastronomy, offering truffles, olive oil, seafood, and excellent wines. Visitors can explore national parks, indulge in water sports, visit wineries, and immerse themselves in the region's rich cultural events. The Istrian Peninsula is a captivating destination that combines natural beauty, historical sites, and culinary delights. Learn what makes Istrian Peninsula a Unique Destination. Here are a few best routes you can take to explore the Istrian Peninsula in Croatia:
1. The Best Travel Routes in Istrian Peninsula – Coastal Exploration Route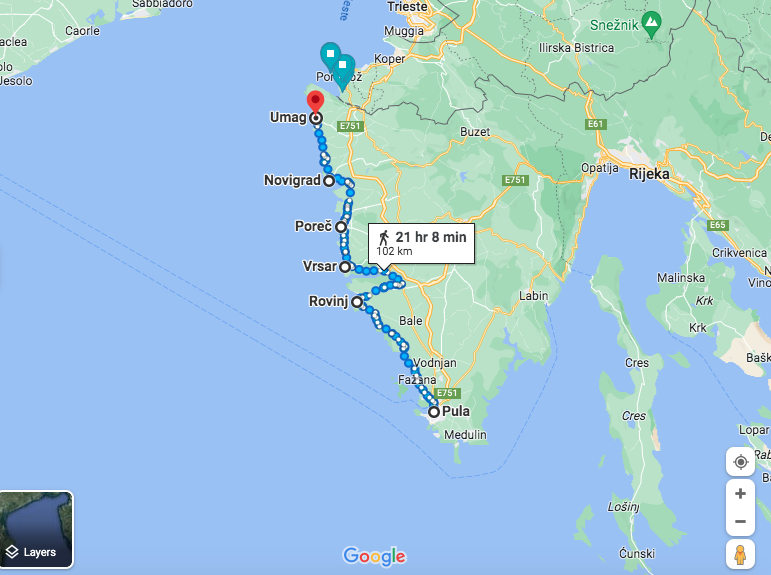 Pula: Start your journey in Pula and explore its Roman ruins, including the Pula Arena.
Rovinj: Visit the charming coastal town of Rovinj, known for its narrow streets and beautiful harbor.
Vrsar : Vrsar, a hidden gem in Istria and its stunning hilltop location, boasts panoramic views of the Adriatic Sea, a picturesque old town with narrow streets
Poreč: Discover the UNESCO-listed Euphrasian Basilica and enjoy the beaches of Poreč.
Novigrad: Continue along the coast to Novigrad, a picturesque town with a historic old town and seaside promenade.
Umag: Conclude your coastal exploration in Umag, a popular resort town with beautiful beaches and a vibrant atmosphere.
2. The Best Travel Routes in Istrian Peninsula-Hilltop Towns Route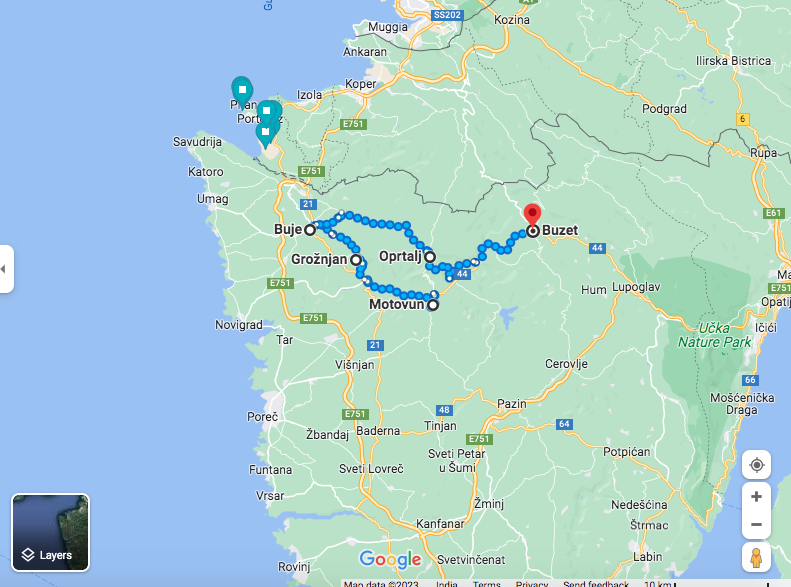 Motovun: Start your journey in Motovun, a medieval hilltop town known for its truffles.
Grožnjan: Visit the artistic town of Grožnjan, known for its art galleries and stunning views.
Oprtalj: Explore the small hilltop town of Oprtalj and enjoy its panoramic vistas of the Istrian countryside.
Buje: Continue to Buje, a town perched on a hill with a historic center and stunning views of the Adriatic Sea.
Buzet: Conclude your route in Buzet, known as the "City of Truffles," where you can indulge in local delicacies.
3. The Best Travel Routes in Istrian Peninsula – Istrian Wine Tasting Route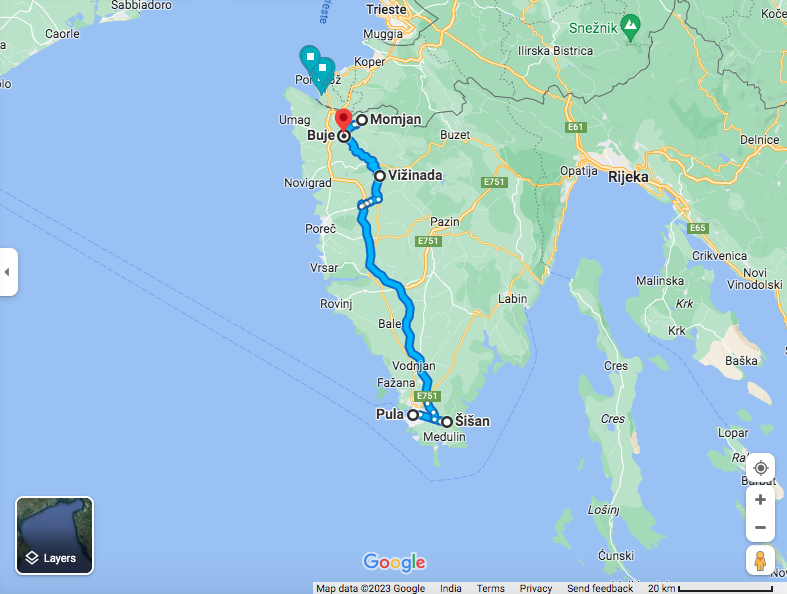 Pula: Begin your wine journey in Pula and explore its wine bars and cellars.
Šišan: Visit Šišan and experience the wine culture of the region at local wineries.
Vižinada: Continue to Vižinada, known for its vineyards and wine production.
Momjan: Explore the wine-growing region of Momjan and visit the renowned wineries.
Buje: Conclude your route in Buje, where you can enjoy wine tastings and learn about the local wine-making traditions.
4. The Best Travel Routes in Istrian Peninsula – Istrian Gastronomic Route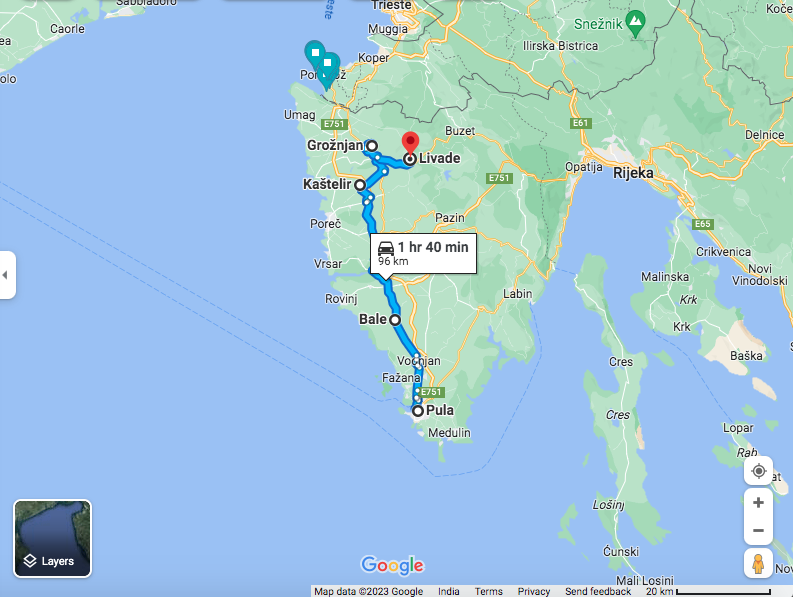 Pula: Start your culinary adventure in Pula and savor the local seafood specialties.
Bale: Visit the village of Bale, known for its olive oil production and traditional Istrian cuisine.
Grožnjan: Explore Grožnjan and indulge in local delicacies at the village's restaurants.
Kaštelir: Continue to Kaštelir and enjoy the traditional Istrian dishes and local wines.
Livade: Conclude your gastronomic route in Livade, the truffle capital of Istria, where you can savor truffle-infused dishes.
5. The Best Travel Routes in Istrian Peninsula – Istrian Art and Culture Heritage Route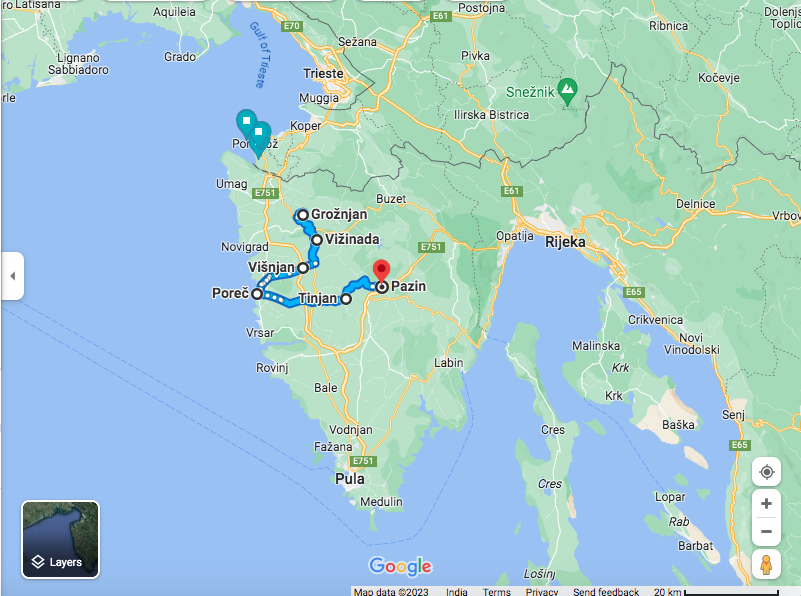 Grožnjan: Immerse yourself in the artistic atmosphere of Grožnjan, a town known as the "Town of Artists," with numerous galleries, studios, and cultural events.
Vizinada : It is a hidden gem in the Istrian Peninsula, offers unique art and cultural sights to explore. The town is known for its impressive collection of outdoor sculptures and installations that seamlessly blend with the picturesque surroundings.
Višnjan: Višnjan is known for its astronomical observatory and rich cultural heritage. Explore the Višnjan Observatory and learn about the wonders of the universe, and discover local traditions and customs in this charming Istrian town.
Poreč: Visit Poreč and explore its rich cultural heritage, including the UNESCO-listed Euphrasian Basilica and its vibrant arts scene.
Tinjan: Tinjan is a small town renowned for its traditional Istrian cuisine and cultural events. It hosts the famous Festival of Istrian Prosciutto, where visitors can indulge in delicious cured meats and experience the authentic Istrian gastronomy.
Pazin: Pazin is a town rich in history and heritage, offers a unique art and cultural experience. The highlight is the Pazin Castle, a symbol of the region, which houses the Ethnographic Museum showcasing the traditional way of life.
These Routes will take you through the Picturesque landscapes, Charming Towns, Historical and Cultural Heritage and Culinary Delights of the Istrian Peninsula, offering a well-rounded experience of this enchanting region in Croatia.
Learn More