If you're planning a trip to this stunning Greek island or simply dreaming of a beach getaway, you're in the right place. In this post, we will explore some of the best beaches in Corfu, highlighting their unique features and what makes each one worth visiting.
Rovinia Beach
Situated on the west coast of Corfu, near Liapades village, Rovinia Beach is a secluded and pristine beach renowned for its clear turquoise waters, magnificent rock formations, serene and peaceful environment. To access the beach, visitors need to take a short but steep and rocky path, which is well worth it due to the stunning scenery and tranquil ambiance.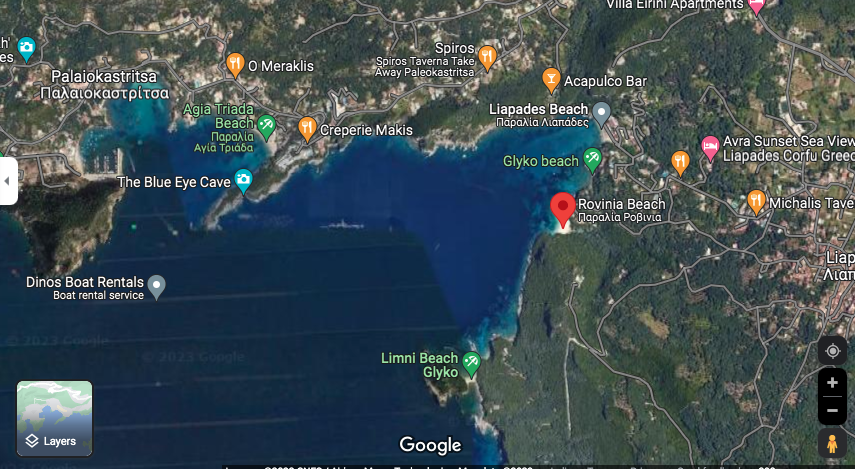 The surrounding cliffs are covered in lush greenery, enhancing the picturesque scenery. Rovinia Beach is an excellent place for swimming, sunbathing, and snorkeling, and it's an ideal choice for those seeking a more secluded and off-the-beaten-path beach experience. Since there are no amenities or facilities on the beach, visitors are advised to bring their own food and drinks.
Enjoy the Spectacular Beauty of Top 10 Beaches in this Video Guide
Agios Georgios Beach
Nestled on the northwestern coast of Corfu, Agios Georgios Beach is a popular and picturesque destination that boasts a long stretch of golden sand and crystal-clear waters, perfect for swimming and water sports. The beach is surrounded by lush green verdant hills that provide a breathtaking backdrop and a sense of serenity. There are several beachfront tavernas and cafes where visitors can grab a bite to eat or a refreshing drink.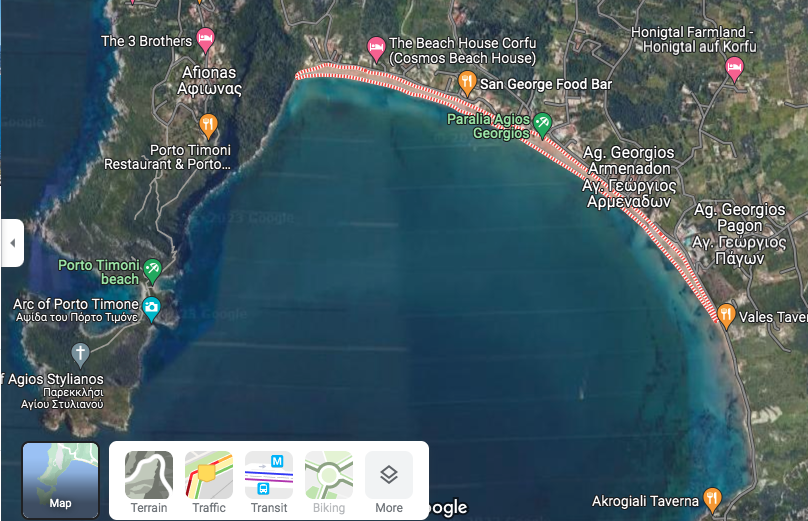 Agios Georgios Beach is an ideal location for families with children, as the shallow waters near the shore provide a safe and enjoyable swimming experience. The surrounding area is also rich in outdoor activities, such as hiking, cycling, and exploring the charming nearby villages. The beach is easily accessible by car or public transportation, and a range of accommodation options are available for visitors looking to spend more time in the area.
Dassia Beach
Located on the eastern coast of Corfu, Dassia Beach is a long and wide pebble beach that offers a range of activities and amenities for visitors. The beach is popular among families with children, as the water is shallow and calm. Dassia Beach is also a great spot for water sports, with opportunities for jet skiing, parasailing, and paddleboarding. Visitors can find several restaurants and bars along the beach, as well as rental shops for sunbeds and umbrellas.
The beach is easily accessible by car or public transportation and there is a parking area available for visitors. Beyond the beach, visitors can explore the surrounding area which is rich in history and culture. The nearby village of Dassia offers a selection of shops and markets for visitors to browse, while the 18th-century Venetian Villa of Mon Repos, located just a short distance away, provides a glimpse into the island's rich heritage. Overall, Dassia Beach is a perfect destination for those who are looking for a beach vacation that offers a mix of relaxation and entertainment.
Halikounas Beach
Experience the ultimate beach escape at Halikounas Beach, a pristine 3-kilometer stretch of sand situated on Corfu's tranquil southwestern coast. This secluded beach boasts a stunning backdrop of sand dunes and lush greenery, perfect for those seeking peace and serenity away from the crowds.
Halikounas Beach is an organized paradise with a range of facilities including sun loungers, umbrellas, and water sports equipment available for rent. You can kayak, paddle, or explore the nearby lagoon or sea. Indulge in delicious meals and refreshing drinks at one of the several beach bars and tavernas.
This idyllic beach is surrounded by natural beauty, including the Korission Lake, a wildlife reserve, and a bird lover's paradise. The surrounding area also has several scenic hiking trails, offering stunning views of the coastline and hills.
Halikounas Beach is the perfect destination for a relaxing and peaceful getaway, with a variety of activities and amenities to make your stay unforgettable. The beach is also popular among windsurfers and kiteboarders due to its strong winds.
Marathias Beach
Escape to the serene southwest coast of Corfu and discover the hidden gem that is Marathias Beach. This intimate sandy cove boasts clear turquoise waters and a rocky coastline that exudes unique charm. Surrounded by lush olive groves, the beach offers a tranquil atmosphere, making it an ideal spot for a peaceful getaway. The quiet and peaceful ambiance of Marathias Beach makes it the perfect retreat for visitors seeking a more secluded experience.
Despite being relatively small, the crystal-clear waters offer a refreshing swimming experience, and the rocky shoreline is perfect for snorkeling or exploring the diverse marine life. Take a leisurely stroll along the shoreline or enjoy a picnic under the shade of the olive groves.
The surrounding area offers excellent hiking opportunities with stunning views of the coast and the lush green hills in the distance. While no facilities are available at the beach, several tavernas are within proximity, offering visitors a variety of food and drink options. Accessible by car, the beach provides ample parking options for visitors.
Issos Beach
Issos Beach is a picturesque destination known for its expansive stretch of soft golden sand and crystal clear turquoise waters. It is situated on the southwest coast of Corfu near the village of Agios Georgios and is an extension of the long Agios Georgios-Argyrades beach.
The sandy shoreline is situated on the land that separates the sparkling expanse of Lake Korission from the vast sea. The beach is nestled amidst lush green vegetation that creates a natural and serene atmosphere, making it an ideal spot for visitors seeking a relaxing getaway.
What sets Issos Beach apart from other beaches in Corfu is its remarkable sand dunes that make the surrounding area look like a mini desert. It is the Protected natural reserve that is home to various rare bird species and other wildlife. Several beach bars and tavernas along the coastline offer refreshments and traditional Greek cuisine.
Palaiokastritsa Village and Beach
Palaiokastritsa Beach Location
Palaiokastritsa is a picturesque coastal village located on the northwest coast of Corfu island in Greece. The village is well-known for its stunning scenery, crystal-clear waters, and beautiful beaches. Palaiokastritsa has several beaches, each with its unique features, including Agios Spyridon Beach, Alipa Beach, and Paleokastritsa Beach. The main beach, Paleokastritsa Beach is located in the heart of the village and is a great place to relax and soak up the sun. The beach features crystal-clear turquoise waters and soft, golden sand.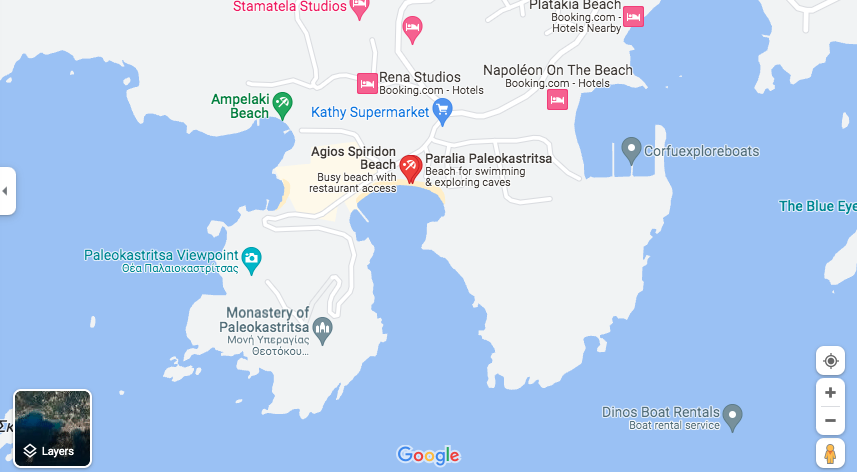 The beach is surrounded by cliffs and lush green vegetation and hills, making it a beautiful spot for a day trip or a longer stay. Since, Palaiokastritsa is surrounded by beautiful hills and forests, it makes an excellent destination for hikers. Visitors can take a hike to the nearby village of Lakones, which offers stunning views of the coast. Palaiokastritsa is also home to a beautiful monastery, which was built in the 13th century and offers breathtaking views of the surrounding landscape and the sea. Visitors can explore the monastery's grounds and admire the stunning architecture.
You can also Explore the Paleokastritsa Caves by taking a boat tour or rent a paddleboat to explore the sea caves along the coast. The caves are home to a variety of marine life, including colorful fish and sea urchins. Scuba diving and snorkeling are popular activities in Palaiokastritsa. The clear waters provide a unique opportunity to explore the colorful marine life and the sunken ships in the area.
Your trip to Paleokastritsa is incomplete without a visit to Angelokastro Castle. It is a fascinating historical landmark located on the picturesque island of Corfu in Greece. Perched on a rocky hilltop, 305 meters above sea level, the castle offers breathtaking views of the surrounding area. The castle was built in the 13th century AD and served as a defensive stronghold for the island during various conflicts and invasions over the centuries. Visitors to Angelokastro can explore the castle ruins, which include the main entrance gate, the defensive walls, and the remains of a Byzantine church.
The castle is surrounded by beautiful natural scenery, including forests and olive groves, and is a great spot for hiking and photography. The castle is accessible by car, and there is a parking area located at the foot of the hill. From there, visitors must hike up a steep and rocky path to reach the castle. It is recommended to wear comfortable shoes and bring plenty of water. It is a must-visit spot for anyone interested in history, architecture, and outdoor activities. For visitors without personal car, they can hire a taxi. They would charge 50-60 Euros for a Return Trip to Corfu Main Town (including a quick visit to the castle and can generally wait for you around 40- 60 mins, maybe you can negotiate for few extra minutes).
Chomi Beach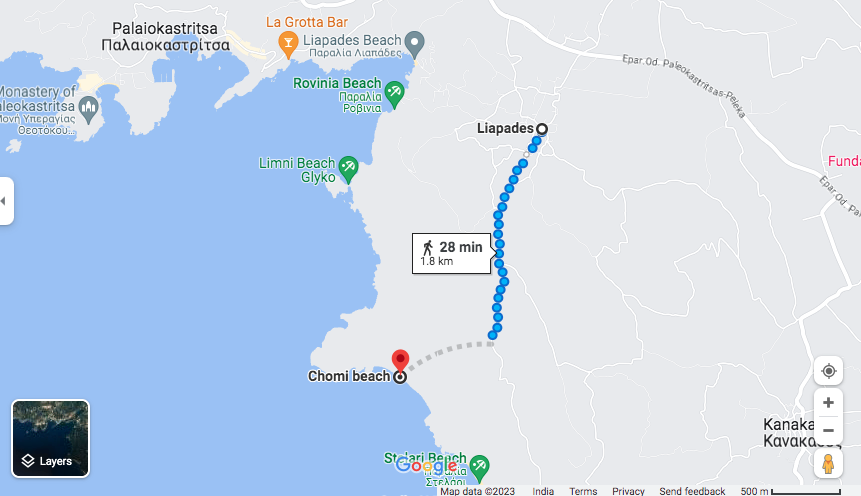 Chomi Beach is a picturesque beach located on the western coast of the Greek island of Corfu. It is situated near the village of Liapades (around 2 Kms, approx. 30 mins walk and 5 mins by car), approximately 20 kilometers northwest of the island's capital, Corfu Town. Chomi Beach is a secluded and unspoiled beach and is known for its crystal clear turquoise waters and its pristine white pebble beach. The rocky terrain of Chomi Beach boasts of small caves and crevices, inviting visitors to explore either by swimming or walking. The shoreline is adorned with a blend of rough sand, shingle, and stones, while the water that encircles it displays an incredible hue of blue and clear transparency.
One of the unique features of Chomi Beach is the small cave located at the southern end of the beach. Visitors can swim or wade into the cave and explore its natural beauty. The cave is also a great spot for snorkeling, with an abundance of colourful marine life to discover. Another unique feature of Chomi Beach is the presence of a natural freshwater spring that flows into the sea. The spring creates a small pool of cool, refreshing water near the shore, providing a natural oasis for visitors to cool off from the sun.
Access to Chomi Beach can be challenging. However, visit to Chomi is truly unforgettable experience of a hidden and unspoiled paradise. It is important to note that as a secluded beach, there are no facilities or services available on Chomi Beach, so visitors should bring their own food, water, and other essentials. Sun protection is also recommended, as there is limited shade on the beach. It is recommended to wear sturdy shoes and bring plenty of water and snacks, as there are no facilities or services available on the beach. Due to its remote location, it is important to take necessary precautions and be prepared for the hike down to the beach.
Canal D'Amour
Located on the northwest coast of Corfu in Greece, Canal D'Amour is a beautiful cove renowned for its unique rock formations, sandy beaches, and turquoise waters. The name Canal D'Amour, meaning "Channel of Love" in French, originates from the belief that couples who swim through the narrow channel together will experience everlasting love.
The area is famous for its picturesque sandstone cliffs, eroded by the sea and wind over time, forming a series of inlets and secluded beaches. Visitors can explore the geological wonders by foot or boat, and enjoy activities such as snorkeling and diving in the clear waters.
Canal D'Amour is a popular tourist destination due to its stunning landscape and clear waters. Visitors can enjoy swimming and sunbathing on the golden sand of Canal D'Amour Beach, which features calm and shallow waters.
To reach Canal D'Amour, visitors can take a bus or drive to the town of Sidari and follow the signs to the cove. It is situated around 38 km from Corfu Town and is easily accessible by public transportation or car
Porto Timoni Beach
Located on the northwestern coast of Corfu, Porto Timoni Beach is a hidden treasure that can only be accessed on foot or by boat, adding to its unique appeal. The beach is located near the village of Afionas, and visitors can park their cars there and follow the clearly marked trail to reach the beach. The hike takes about 20-30 minutes and requires moderate fitness. The rocky and uneven terrain necessitates wearing sturdy shoes, but the stunning views of the Ionian Sea and the verdant landscape make the trek worthwhile.
Alternatively, visitors can take a boat from the nearby villages of Agios Georgios or Paleokastritsa to reach Porto Timoni Beach. The boat ride is scenic, providing stunning views of the Corfu coastline. The beach is made up of two bays separated by a narrow strip of land. The water in both bays is crystal-clear and ideal for swimming. The dramatic cliffs, lush vegetation, and panoramic views of the Ionian Sea make for a breathtaking landscape.
Visitors should bring their own beach essentials, including water, snacks, and sunscreen, as the lack of facilities adds to the remote and unspoiled atmosphere of the beach. In general, Porto Timoni Beach is a must-visit destination for those seeking a secluded and peaceful beach experience in Corfu. Nature enthusiasts and adventure seekers alike will be enchanted by the magnificent natural surroundings and crystal-clear waters.
View, Read and Learn More Here