Santorini or Thira is an island in the southern Aegean Sea, about 200 km (120 mi) southeast from the Greek mainland. It is the largest island of a small, circular archipelago, which bears the same name and is the remnant of a caldera.
The capital of this Santorini is called Fira, and it's located 8km away from the port. It is almost 127 miles away from Piraeus.
It forms the southernmost member of the Cyclades group of islands, with an area of approximately 73 km2 (28 Sq mi) and a population of 15,550. The municipality of Santorini includes the inhabited islands of Santorini and Therasia, as well as the uninhabited islands of Nea Kameni, Palaia Kameni, Aspronisi and Christiana. The total land area is 90.623 km2 (34.990 sq mi).
The island was the site of one of the largest volcanic eruptions in recorded history: the Minoan eruption (sometimes called the Thera eruption), which occurred about 3,600 years ago at the height of the Minoan Civilization. The eruption left a large caldera surrounded by volcanic ash deposits hundreds of metres deep.
It is the most active volcanic centre in the South Aegean Volcanic Arc, though what remains today is chiefly a water-filled caldera. The volcanic arc is approximately 500 km (300 mi) long and 20 to 40 km (12 to 25 mi) wide.
How Santorini Could Look Like ? Discover Visually
Choosing Your Mode of Transport to Santorini
You Can arrive in Santorini Via Ferry, Cruise or Flight. Port of Santorini (Athinios) is connected to Piraeus and other Aegean ports. Ferries travel from Piraeus (Athens Port) to Santorini in about 7-8 hrs while high-speed boats take around 4-5 hrs.
Based on this Article, Getting back and forth from Piraeus to Santorini (Thera) is very easy with large number of ferries operating throughout the year. The route Piraeus to Santorini (thera) is operated by 6 ferry companies: Blue Star Ferries, Seajets, Aegeon Pelagos, Zante Ferries , Minoan Lines and Sea Speed Ferries.
The ticket prices range between 20.00 and 138 euros with average being around 60-70 Euros, depending on whether you travel with a High-Speed or a Normal ferry. Tickets for this route are available for passengers as well as vehicles, such as cars and motor bikes. The trip Duration from Piraeus to Santorini (Thera) is between 5 hrs- 13 Hrs. With Seajets which is the fastest ferry company on this route you can arrive in 5h 10m. Aegeon Pelagos, Blue Star Ferries, Seajets, Sea Speed Ferries offer a direct trip to Santorini.
Useful Information about Lavrio and Rafina based on this Article Source :
Santorini is also connected with the Other 2 ports of Lavrio and Rafina.
Rafina is the second largest port in the region and lies 28 km from Athens.
Ferry companies operating from this port include Fast Ferries, Seajets, Golden Star Ferries and more, with regular sailings to Andros, Tinos, Mykonos, Paros, Naxos, Amorgos, Ios, Santorini, and Koufonisia.
Ferries from Lavrio Port Sail to Kea, Kythnos, Syros, Folegandros, Ios, Kimolos, Milos, Paros, Sikinos, Naxos, Kavala, Agios Efstratios and Limnos.
Optimal Budget Option is to take a Ferry from Piraeus (unless you are constrained for time) because it will take 5-8 hours Journey during which the Ferries stop at other Islands (Paros, Naxos, Mykonos etc) and You can plan your to and fro visits from Santorini to those islands. This gives a Good View and Experience of Greek Islands and the Ocean. More is Explained in the Following Expert Video Guide.
Athens Centre to Athens Port (Piraeus) and Piraues to Santorini
If you are in Athens, then You Will take a Green Metro towards Piraeus from Monastiraki (the City Centre). From Piraeus, you will take the Ferry to Santorini as you can see in the below map.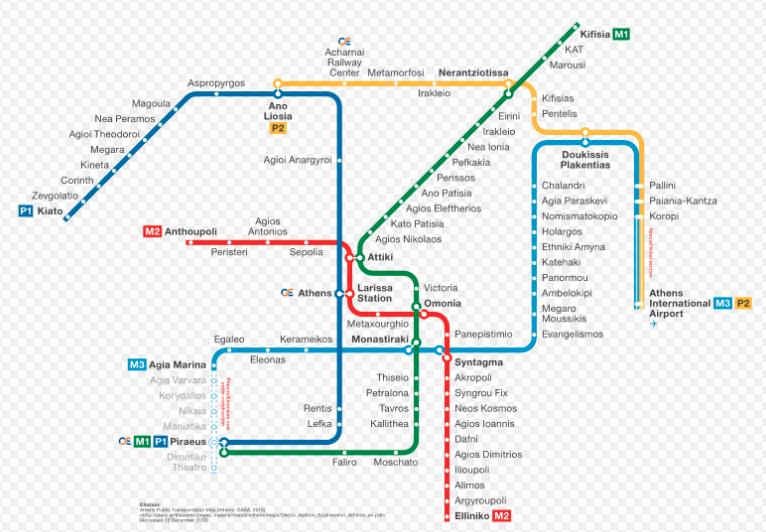 Ticket Booking Sites if You are Arriving by Ferry
Its best to book tickets in Advance because they are cheaper and you get a good deal.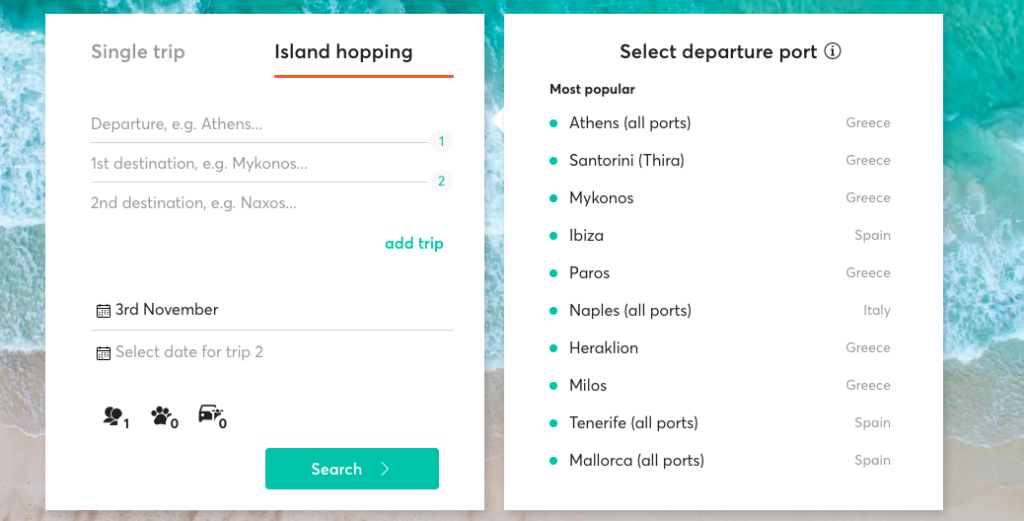 You Can Book Your Ferry Tickets at the Following Sites :
Or Directly Book with the Ferry Companies Online or at The Ticket Counters at the Port
Ferry Schedules from and to Santorine
For Knowing about the Ferry Schedules (Santorini to Athens, Mykonos, Naxos, Paros, Syros and many other Islands or Ports), Refer the Following Links for Santorini Ferry Schedules :
Taking Blue Star Ferries from Piraeus to Santorini & Other Ports
These are Giant Ferries and have as they have a large number of routes through the Greek Islands. Explore all the Islands or Destinations you may want to Visit from Piraeus (Athens) or Santorini via Blue Star Ferries. Below are the 2 Useful Links
Popular Ferry Routes for Island Hopping
Island Hopping and Trips from Santorini
For ISLAND HOPPING, It is good to have an Understanding of the Ferry Schedules and Routes, as it can help you plan your Travel better. Most Popular Islands to Visit around or from Santorini are : Mykonos, Paros, Naxos, Crete, Ios, Milos, Amorgos, Folegandros
Video on Ferry from Athens (Piraeus) to Santorini or Other Ports
A Useful Video if you Plan to Take a Ferry from Athens (Piraeus) to Santorini or Other Greek Islands that helps you navigate better in Piraeus as the Directions can be a bit Confusing.
Please Refer Piraeus Port Map and Gate Information to help you Understand about your Boarding Gates if You plan to take Blue Star Ferries (For Santorini, its E6 as shown on the Website) but it could change. Always better to check in advance. But even if you don't, you can seek directions and get guided by the People on the Streets or at the Ticket Counters to the Right Gate
Arriving at Santorini Ferry Terminal and to Your Hotel
A Good Video on Complete Information about Santorini Port
Local Transportation and Commuting Guides in Santorini
Summary of Bus Information at Santorini Ferry Port based on Santorini Buses
From the Port to Fira, the buses are located to your left as you disembark the boat. Tickets are cash only, purchased on board and cost €2/person; the trip takes about 20 minutes. If you are staying anywhere other than in Fira, you will need to change buses (and purchase an additional ticket) to your final destination; timetables are clearly posted at the Fira stop.
To the Port: The bus to Athinios ferry port in Santorini only departs from Fira; if you're staying somewhere else, you'll first have to take the bus to Fira and then change buses (and buy an additional ticket) to Athinios port. The Fira-Athinios bus schedule changes daily in accordance with the ferry schedule, and is posted one day in advance; it is not listed on the website timetable.
If you happen to Take Buses to Fira or Oia or Explore Santorini by Bus, Here is the Current Time Table from the Official Website: Santorini Bus Schedules
View, Read and Learn More Here